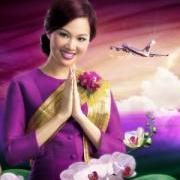 Thai Airways is offering special fares from Bangkok to international destinations during the "I Fly Thai" promotion. Sample fares include Singapore for THB5,000 (USD163), Hong Kong for THB6,630 (USD215), and Sydney or Melbourne for THB17,500 (USD 565). Quoted prices are roundtrip economy fares and do not include taxes or surcharges. This promotion is valid for travel until March 31, 2011.
Other "I Fly Thai" promotional fares include Hanoi / Ho Chi Minh City / Phnom Penh / Yangon / Vientiane for THB4,000 (USD130), Jakarta / Denpasar for THB8,500 (USD275), Peth for THB12,500 (USD405), Auckland for THB22,000 (USD710), Johannesburg for THB20,000 (USD645), and Moscow / Athens for THB23,000 (USD745). Special fares for business class travel are also available. Visit the Thai Airways website for a full list of promotional fares.
These fares are only available for online bookings and are subject to availability. No additional discount will be given for children. Once booked, promotional economy fares are not refundable and no changes are permitted. Thai Airways is a full-service airline and all tickets include meals, beverages, checked luggage, and in-flight entertainment.
To check availability and total price inclusive of taxes, visit the Thai Airways website at www.thaiairways.com. Bookings can be made 24 hours a day using their easy online reservation system. If you have any questions, contact the customer service center at (66) 2 356 1111.