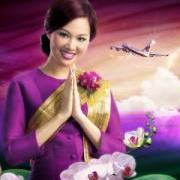 Thai Airways, the flag carrier of Thailand, is offering special prices on all domestic flights during the month of August 2011. Departing from Bangkok, one-way fares are THB1,870 (USD62) to Chiang Mai, THB2,170 (USD71) to Krabi, and THB2,265 (USD75) to Phuket. Taxes and surcharges are additional. Promotional fares must be issued and travel completed by August 31, 2011.
Other promotional fares from Bangkok are Chiang Rai for THB2,205 (USD73.50), Surat Thani for THB2,070 (USD69), Hat Yai for THB2,505 (USD83.50), Khon Kaen for THB1,645 (THB55), Ubon Ratchathani for THB 1,815 (USD60.50), and Udon Thani for THB1,715 (USD57). Travel between Phuket and Chiang Mai costs THB4,105 (USD136).
Round-trip fares are twice the one-way fare. The return journey must be completed within 1 month of the departure flight. Once the ticket has been issued no name changes, date changes, re-routings, or refunds are permitted. Thai Airways is a full-service airline and all fares include meals, beverages, checked luggage, and in-flight entertainment.
"August Get-Away" fares can be purchased through http://www.thaiairways.com/ or by contacting the Thai Airways ticketing office at (66) 2 356 1111.