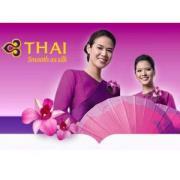 The latest promotion from Thai Airways is sure to put a smile on your face. With the "Smile Thailand' promotion, the fares for 9 domestic routes have been lowered to wallet-friendly prices below THB3,000 (USD100).
Departing from Bangkok's Suvarnabhumi Airport, you can fly to Chiang Mai from THB1,890 (USD 63), Chiang Rai from THB2,350 (USD76), Ubon Ratchathani from THB1,905 (USD64), Khon Khaen or Udon Thani from THB1,785 (USD60), Surat Thani from THB1,830 (USD62), Krabi from THB2,305 (USD77), Phuket from THB2,425 (USD81), and Hat Yai from THB2,730 (USD91). This promotion also includes flights between Chiang Mai and Phuket with promotional fares from THB4,765 (USD160).
Quoted prices are for one-way economy fares including all surcharges except airport tax. These fares are valid on Thai Airways operated flights from Monday to Thursday only.
If you need a round-trip ticket, you can save even more by booking in advance. Round-trip flights booked 30 days or more in advance cost THB3,890 (USD130) between Bangkok and Chiang Rai, Krabi, Phuket, or Hat Yai, or THB2,890 (USD 97) to Chiang Mai, Ubon Ratchathani, Khon Khaen, Udon Thani, or Surat Thani.
These promotional fares are valid for ticketing and travel dates between September 6, 2010 and March 31, 2011. After the ticket has been issued, it is non-refundable, non-rerouteable, and no name changes are allowed. No additional discount is given for children or infants.
These promotional fares are only available online through the official Thai Airways website at www.thaiairways.com.