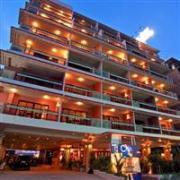 Stay at the new Citin Loft Pattaya and receive discounts up to 25% off their already low rates. Receive a 15% discount on Standard Rooms, 20% discount on Suites or Family Rooms, and 25% discount for bookings made 30 days or more in advance. After applying discounts, rates start from THB1,062 (USD35) with breakfast and internet. This is an on-going promotion and available until further notice.
The quoted price of THB1,062 (USD35) is for a Standard Room furnished with 1 king or 2 twin sized beds. Other discounted rates are THB1,359 (USD45) for a Deluxe Suite and THB2,174 (USD72) for a Family Room. All rates are subject to 10% service charge and 7% local taxes. Promotional rates are subject to availability and may not be available during peak times.
The Citin Loft is a new 54-room hotel located in downtown Pattaya. The rooms are spacious and appointed with modern amenities like satellite TV, wireless internet access, and a private balcony. Hotel facilities include a swimming pool, Jacuzzi, café, and complimentary shuttle service to a nearby shopping center. The Citin is also an excellent choice for a long-term stay and monthly rates are available.
Visit http://www.citinloftpattaya.com/ for more information or to make an instant online reservation. Bookings can also be made by contacting the hotel at (66) 38 489 499 or emailing enquiry@citinloftpattaya.com.