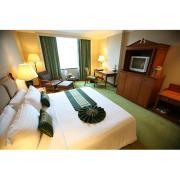 From now till 31 July 2010, The Radisson Hotel welcomes visitors back to Bangkok with a great value rate. Rates start from THB1,700 (USD52) for the Single Superior room or THB2,000 (USD61) for the Double Superior room. The prices quoted are per night and subject to government taxes and service charge. A minimum booking of two nights is required to enjoy this rate. Included is daily breakfast and wireless Internet access.
The four-star hotel has five restaurants serving Thai, Chinese and Japanese cuisine, and three lounges. A shuttle service provides guests easy access to major shopping malls and train stations.
To book this package, call (66) 0 2641 4777 or send an email to rsvn@rdsbkk.com. For more information on the hotel, visit their website.