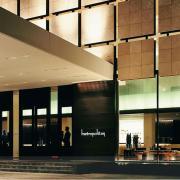 A new restaurant is set to open at The Metropolitan Hotel in Bangkok. The name nahm, Bangkok is sure to ring a bell to discerning fans of Thai cuisine. The Metropolitan is centrally located in the heart of bustling Bangkok and is the perfect venue for the latest offering from Australian chef David Thompson, the man behind the first Michelin-starred Thai restaurant in Europe – nahm at The Halkin in London.
Come July, diners will be treated to authentic Thai fare as interpreted by Thompson. Among the highlights include a fish curry inspired by the flavors of Northern Thailand, prawns with turmeric and coconut cream, as well as an enticing selection of traditional desserts. The restaurant will also serve a variety of canapés at each meal. Contributing to the menu and wine selection are Tanongsak Yordwai and Troy Sutton – Thompson's collaborators on his restaurants in London and Sydney. Diners will be delighted to know that Thompson plans to use the freshest local produce personally picked out from the markets of Bangkok.
Designed by Japanese architect, Koichiro Ikebuchi, the restaurant décor will be an infusion of Oriental traditions and modern concepts comprising of intricately carved wood furnishings, bronze plates and the warm hues of brown and orange. nahm, Bangkok will feature a private dining room and terrace dining, with a total of 75 covers.
The restaurant will be open for lunch and dinner, seven days a week. For more information, call (66) 2625 3333 or visit the hotel's website at www.metropolitan.bangkok.como.bz.