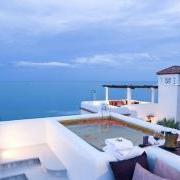 An "All Inclusive Package" is now on offer at the Villa Maroc, a luxury resort in Pranburi, about 30 kilometers south of Hua Hin. This promotion by the Moroccan-themed beach resort starts from THB23,000 (USD705) nett per night for a Pool Court Room and is available till 31 October 2010. In addition to daily breakfast, lunch and dinner, the package includes Moroccan mint-tea served with a snack for two persons. The resort's excellent restaurant, Casablanca, serves a mix of European, Middle Eastern and Thai cuisines, and guests can lounge at the seaside bar over cocktails and shishas.
The two-storey Pool Court Rooms surround an inner courtyard, which is designed with inlaid mosaic, reflecting the art and architecture of Morocco. Rooms are equipped with wireless Internet access, an iPod Touch and docking station, Bose sound system and complimentary drinks and snacks from the non-alcoholic mini-bar. Guests can also participate in leisure activities organized by the resort, such as yoga or tai chi.
Finally, guests can complement their stay with a choice between a Hammam massage (styled after the Turkish baths tradition), a round of golf or a tour of Pranburi town, as part of the package.
Pranburi's proximity to Hua Hin means that visitors get to enjoy the sights and sounds of Hua Hin yet retreat to the serenity of the less developed Pranburi. In addition to white sandy beaches along its coastline, the Villa Maroc is also near mangrove trails and limestone caves for the nature lover's exploration.
To book this package, visit the resort's website. For more enquiries, email rsvn@villamarocresort.com or call (66) 3263 0771.