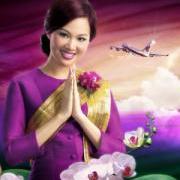 Thai Airways has announced they will be offering direct flights from Bangkok to Male, Maldives, through a code-share arrangement with Bangkok Airways. They will offer three flights per week with return fares starting from THB21,000 (USD690) inclusive of all taxes and airline surcharges.
The code-share flight to the Maldives is effective from January 1, 2011. During the winter schedule from now until March 26, 2011, there will be three flights per week utilizing an Airbus A319 aircraft. Flight TG4523 will depart Bangkok at 2:00pm on Monday, Thursday, and Sunday and arrive in Male, the capital city of the Maldives, at 4:20pm local time.
The Maldives is a tropical island country located in the Indian Ocean near Sri Lanka. It is formed by a double chain of 26 atolls and is renowned for its beautiful beaches, world-class scuba diving sites, and luxurious 5-star resorts.
For more information about Thai Airways or to make an online booking, visit their website at www.thaiairways.com. The Thai Contact Center can be reached 24 hours a day by calling (66) 2 356 1111. Thai Airways is a full-service airline and all tickets include meals, beverages, checked luggage, and in-flight entertainment.