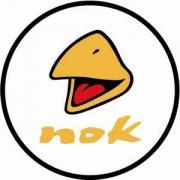 Transportation to the beautiful islands of Thailand's Andaman Coast is easier than ever before with new combined flight/ferry tickets from Nok Air. Fly from Bangkok's Don Mueang airport to the town of Krabi then be transferred by high-speed ferry to a tropical paradise like Koh Phi Phi. There are 8 islands to choose from with one-way fares starting at THB2,000 (USD65).
The combination flight/ferry ticket is a new service being offered by Nok Air starting from January 1, 2011. Island destinations include Koh Phi Phi, Koh Lanta, Koh Ngai, Koh Kradan, Koh Mook, Koh Laoliang, and Koh Lipe in Thailand plus Langkawi Island in Malaysia. Fares include a flight to Krabi, land transportation from Krabi airport to the ferry point, and then a high-speed ferry to the island.
The quoted price of THB2,000 (USD65) is for one-way travel to Koh Phi Phi Island during off-peak times. Fares to other islands may be as high as THB3,000 (USD100) depending on travel dates. Quoted prices are "Nok Eco" fares inclusive of taxes, airport surcharges, and checked baggage up to 15kg. Once issued, Nok Eco fares are non-refundable and a fee of THB535 (USD17) will apply for any changes.
Reservations can be made online at http://www.nokair.com or by calling (66) 2 900 9955.