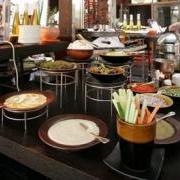 The Sunday Brunch at the Four Seasons has once again won the title of "Bangkok's Best Brunch". Their sumptuous spread of food spans the globe with Thai, Indian, Japanese, Chinese and Western cuisine plus a tantalizing dessert buffet for THB2,350 (USD73).
All of the Four Season's restaurants contribute to the buffet and many diners spend a leisurely afternoon soaking up the atmosphere and sampling the extensive variety of fine cuisine. To start, choose from chilled oysters, caviar, cheese platters, salads, dim sum, or an assortment of sushi and sashimi. Pile your plate with crispy-skinned duck, roast beef and pork loin at the Carving Station or move along to the Madison Grill for sirloin steak, lobster, and salmon cooked to order. The Indian Corner has a tandoori oven with spiced chicken, kebabs and naan bread while the Foie Gras Corner is the ultimate indulgence serving pan-seared foie gras with port wine sauce, sausage, or truffle oil.
Brunch costs THB2,350 (USD73) or THB900 (USD30) for children aged 4 – 12. For adults, the brunch also includes free-flow of wine, beer and champagne. All prices are subject to 10% service charge and 7% local taxes.
Brunch takes place every Sunday at the Four Seasons Hotel from 11:30am until 3:00pm. Diners can choose to be seated in one of the restaurants or in the outdoor courtyard. While enjoying the extravagant meal, diners will be entertained by a 3-piece band playing jazz and Latin music.
For reservations, contact the Four Seasons Hotel at (66) 2 126-8866 ext. 1231 or 1232.