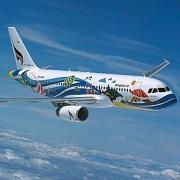 Bangkok Airways is offering special fares for online bookings made until September 30, 2011. Promotional one-way fares are 1,690 (USD56) for travel between Bangkok and Chiang Mai or THB1,990 (USD66) between Bangkok and Phuket. International fares to Yangon or Phnom Penh are also on sale for THB3,290 (USD110) one-way or THB4,290 (USD143) round-trip.
The quoted fares do not include airport taxes, insurance, or fuel surcharges. Travel must be booked and completed by September 30, 2011, and the maximum stay is one month. Promotional fares are non-refundable and once the ticket has been issued no changes are permitted. There is no additional discount for children.
Bangkok Airways is known as "Asia's Boutique Airline" for its customized service to tourist hot spots. They currently fly to 9 destinations within Thailand and 8 international destinations. Economy tickets include 20kg of checked luggage and complimentary refreshments are served on board.
Visit http://www.bangkokair.com/ for more information or to make an online reservation. Questions can be directed to reservation@bangkokair.com or contact the Bangkok Airways customer service line at (66) 2 270 6699.