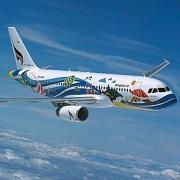 Bangkok Airways is the only airline that connects Bangkok to exotic Siam Reap, Cambodia, home of Angkor Wat temple. From now until March 31, 2011, this route is on sale as part of their "Web Delight" promotion. Book this flight online to receive a special fare of THB10,660 (USD355) for return economy class travel.
The rate of THB10,660 (USD355) is the total fare for round-trip travel and includes fuel and insurance surcharges of THB1,460 (USD48) and a passenger service charge of THB700 (USD23). Fares for one-way travel including all fees are THB5,680 (USD188) from Bangkok to Siam Reap or THB4,980 (USD165) from Siam Ream Reap to Bangkok. Any children traveling will be charged 75% of the adult fare.
The ticketing period for the "Web Delight" promotion is from now until March 31, 2011, and travel must be completed by July 31, 2011. Once tickets are issued, no changes to the name or route are permitted. Changes to the travel date or flight number are free if the changes are made before the travel date. Unused tickets or refunds will incur a THB2,000 (USD66) penalty fee.
Bangkok Airways is known as "Asia's Boutique Airline" for its customized service to tourist hot spots. They currently fly to 9 destinations within Thailand and 8 international destinations. In addition to Siam Reap, Bangkok Airways also flies to Phnom Penh, the capital of Cambodia.
Bookings can be made online at http://www.bangkokair.com/, by emailing reservation@bangkokair.com, or by calling (66) 2 270 6699.