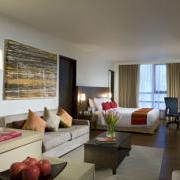 Ascott Sathorn, Somerset Park Suanplu and Somerset Lake Point are each offering a three-night package from now until 30 November 2010. Rates begin from THB8,100 (USD263); the package includes daily breakfast, broadband Internet access, a transfer from the aiport to the property and a complimentary extra bed for children upon request.
This package requires a minimum stay of three nights; additional nights will be charged according to each property's respective Best Available Rates.
This package is especially attractive for families who require multiple bedrooms as well as the flexibility to prepare meals. Each residence at the three properties are furnished with separate living and dining areas and a fully equipped kitchen. Amenities available to guests include a gym, swimming pool, jacuzzi and sauna, and business centre services.
Ascott Sathorn
Ascott Sathorn is a 10-minutes walk from the Chong Nonsi skytrain station.
Residence Type 3-night Package
1-Bedroom Premier THB11,100 (USD360)
2-Bedroom Executive THB14,100 (USD458)
3-Bedroom Executive THB21,300 (USD692)
Somerset Park Suanplu
Located at the corner of South Sathorn Road and Soi Suanplu, Somerset Park Suanplu offers a shuttle service to the Sala Daeng skytrain station. Another option is the Lumpini subway station, which is a short walk away.
1-Bedroom Premier THB8,100 (USD263)
2-Bedroom Deluxe THB10,800 (USD350)
2-Bedroom Premier THB12,000 (USD390)
Somerset Lake Point
Somerset Lake Point is within the Sukhumvit district of Bangkok and 10 minutes by foot to the Asok skytrain station. A shuttle service to the Sukhumvit subway station is provided.
1-Bedroom Premier THB10,200 (USD331)
2-Bedroom Deluxe THB10,500 (USD341)
2-Bedroom Premier THB12,600 (USD409)
3-Bedroom Deluxe THB14,700 (USD477)
Rates are subject to 7% government tax and 5% service charge.
For inquiries, send an email to enquiry.bangkok@the-ascott.com. To book this package, visit www.the-ascott.com.